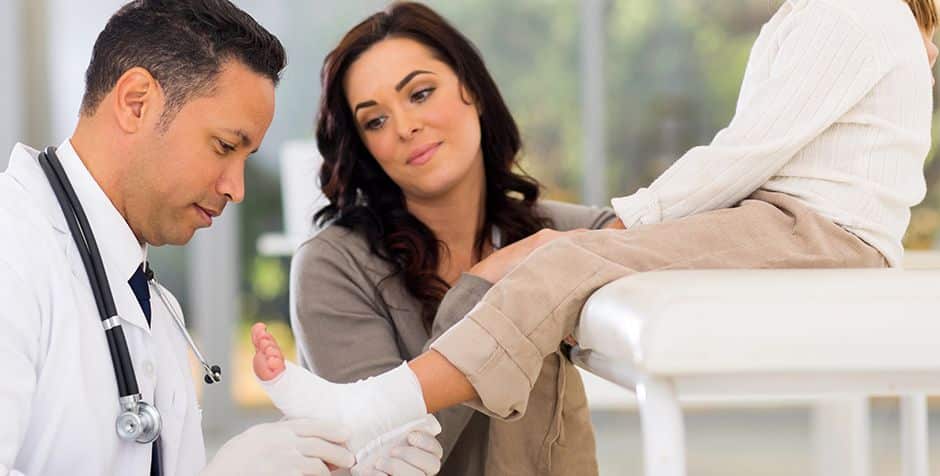 Child Injury Lawyers in Miami
Fighting for children in Miami, Florida when drivers, property owners, doctors, and others cause them harm
Every child gets a cut or bruise now and then. No child should ever suffer any injury that requires hospitalization, the need for rehabilitative care, emotional trauma, or an injury that forever changes their life. Children of all ages rely on adults to act and drive responsibly, keep their property safe, and provide competent medical care. Adults rely on product manufacturers to place their children's safety first. When children are harmed by negligent acts or product defects, parents have the right to hold the responsible parties accountable.
At Hickey Law Firm, we understand all the ways litigation involving injured children are different than adult claims. We'll fight to protect your children's future. Over the years, I have met Presidents of the United States, US Senators, US Congress men and women, Florida governors, and state politicians. When I meet them I proudly say we represent the least, the last, the left out, and the left behind in getting justice. We represent you who have suffered a life changing injury. Attorney John H. (Jack) Hickey is double board certified by The Florida Bar in Civil Trial and Admiralty and Maritime Law, distinctions held by few attorneys in Florida. He is also board certified in Civil Trial by the National Board of Trial Advocacy (NBTA).
Free Consultation
Fee is Free - You Don't Pay Unless We Win
WAS A LAWYER FOR THE INSURANCE COMPANIES.
NOW A LAWYER FOR YOU.
What kinds of accidents injure children?
At Hickey Law Firm, our attorneys work with investigators, parents, the police, and other negligent adults, businesses, and organizations that fail to protect your child. Our Miami child injury lawyers are respected across Florida by former clients, adjusters, and other attorneys for our preparation, tenacity, persuasiveness, and our dedication to our clients. We handle the following types of accidents:
Vehicle accidents. There are laws that govern where children can sit in a car, how they should sit, and what restraints they need depending on their age and size. These laws were enacted because children are more likely to suffer serious injuries in a car accident due to their small size. Generally, young children should not ride in commercial trucks or on the back of a motorcycle.
Premises liability accidents. Florida recognizes that children of all ages are curious. Property owners must take extra precautions to ensure children don't use the owner's pools or trampolines, and should conduct inspections and repairs with children in mind.
Medical malpractice. Hickey Law Firm represents children and parents when doctors make tragic mistakes during labor and delivery that may cause cerebral palsy and other catastrophic birth injuries.
Defective products. Our Miami product liability lawyers file claims against the manufacturers, distributors, and sellers of products that harm children. Common products known to be dangerous for children include cribs, bicycles, medications, clothing, and toys.
School and recreational activities. Schools need to ensure the security of their children during school hours and while children are participating in after-hours activities. Bus accidents can kill or injure a child. Community organizations also need to protect children by monitoring their activities and running background checks on employees who work with children. Sexual assaults of children cause lifelong consequences.
Hickey Law Firm also represents children who are injured while enjoying Miami's attractions, amusement parks, daycare centers, riding an ATV, bitten by a dog, and other negligent causes.
YOUR JOURNEY TO JUSTICE.
LED BY YOUR TEAM AT HICKEY LAW FIRM.

WE LEAD. WE EXPLAIN. WE RESOLVE... FOR YOU.
What types of injuries do children in Miami suffer?
An injury to a child is much different than an injury to an adult. Young children have difficulty explaining what happened or where they're hurting. Children are often frightened by any serious injury, and doctors need to understand what treatments are best for children, now and as they grow to adulthood.
Our Miami child injury lawyers represent children who have any serious injury, including:
Orthopedic injuries
Head trauma or a TBI
Spinal cord damage
Burn injuries
Amputation of a limb
Sexual assaults
Dental injuries
Vision or hearing loss
Nerve damage
Nerve, ligament, tissue, or muscle damage
Scarring and disfigurement
Internal organ damage
PTSD
Our team works with your child's physicians, as well as consulting with independent experts, such as pediatricians and doctors trained to work with children. We document what injuries your child has, what treatments are necessary, the cost of those treatments, how the injuries are affecting your child's schooling and development, and all your children's physical and emotional suffering.
What are the challenges of child personal injury claims?
At Hickey Law Firm, we understand and review the many legal issues that are unique to children, including:
A parent or guardian must file the claim on the child's behalf.
The court normally must approve any settlement.
Any insurance proceeds are usually placed into a trust or a structured settlement to ensure your child's medical needs are met. The available funds are paid to your child when he/she reaches adulthood, unless there are other issues that prevent your child from taking care of himself/herself.
The rules of negligence are different. Generally, young children are presumed to be incapable of negligence. For children between 7 and 14, there is a rebuttable presumption that a child is not negligent. Older children may be partly or fully culpable for their injuries – if for example, a 17-year-old speeds through a red light.
Normally, all personal injury claims (including child injury claims) must be filed within four years from the date of the accident. Some exceptions may apply.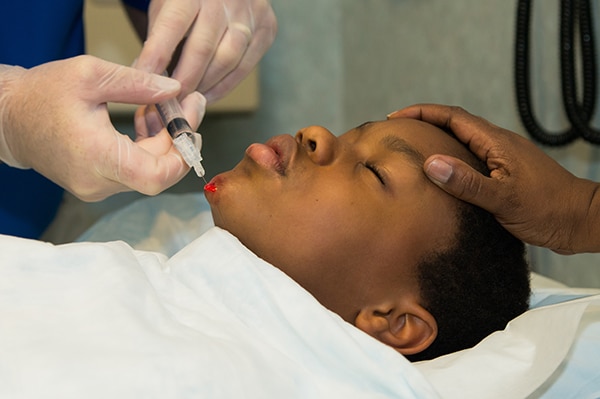 What are Miami's child safety laws?
Florida requires that:
All front-seat passengers and all children under 18 must use seat belts or child restraint devices.
Children should stay in rear seats until they are at least 12, as they can be hurt when front seat airbags deploy.
Children under 5 must be secured properly in a child restraint device that is federally approved and crash-tested.
Children 0 through 3 must be secured by a child restraint device "of a separate carrier or a vehicle manufacturer's integrated child seat."
Children 4 through 5 "must be in a separate carrier, integrated child seat or booster seat."
Drivers of all ages who use a wireless device while driving can be charged with violating Florida law as of July 1, 2019.
There are other Florida and federal laws enacted to protect children that our Miami child injury lawyers can explain.
What is the value of my child's personal injury claim?
At Hickey Law Firm, we work diligently and persuasively to maximize your child's recovery. We review with your doctors how your child's injuries will affect your child for the rest of his/her life.
We demand compensation for all of your child's damages – current and future – including:
Medical bills
Lost income – if applicable
Pain and suffering
Loss of function
Scarring and disfigurement
Psychological harm
We also file wrongful death actions when irresponsible defendants caused the death of your son or daughter.
Do you have a child injury lawyer near me?
Children and parents can speak with us at our office located at 1401 Brickell Avenue, Suite 510 in Miami, Florida. We can also discuss your case at the hospital or home when necessary.
Contact Hickey Law Firm in Miami today
At Hickey Law Firm, our lawyers understand the unique challenges involved in representing children injury victims. Take our hand and walk with us. We have a team ready for you now. Call us.  The Best Lawyers in America© recognizes John H. (Jack) Hickey in three areas: Admiralty and Maritime Law, Personal Injury Litigation – Plaintiffs, and Medical Malpractice –­ Plaintiffs.
We are quality over quantity. We don't have hundreds of lawyers, we have a few. We don't have thousands of clients, we have a good number. We don't advertise on TV.  We get interviewed on TV ... and in magazines, on RADIO, IN newspapers, and by online media. And we are not for everybody.  We are for you, the honest person who was seriously injured.
When people need a specialist in life changing injuries, people choose Hickey Law Firm. Schedule a free consultation by calling us at 305.371.8000 or filling out our contact form. There is no requirement to pay a fee unless and until there is a settlement or verdict in your favor. We fight for personal injury victims in Miami, across Florida and the country.
Related Articles
Read all Miami child injury news posts
Nobody Fights Harder. Nobody Fights Smarter. Nobody. ®

Hickey Law Firm – Call us today.