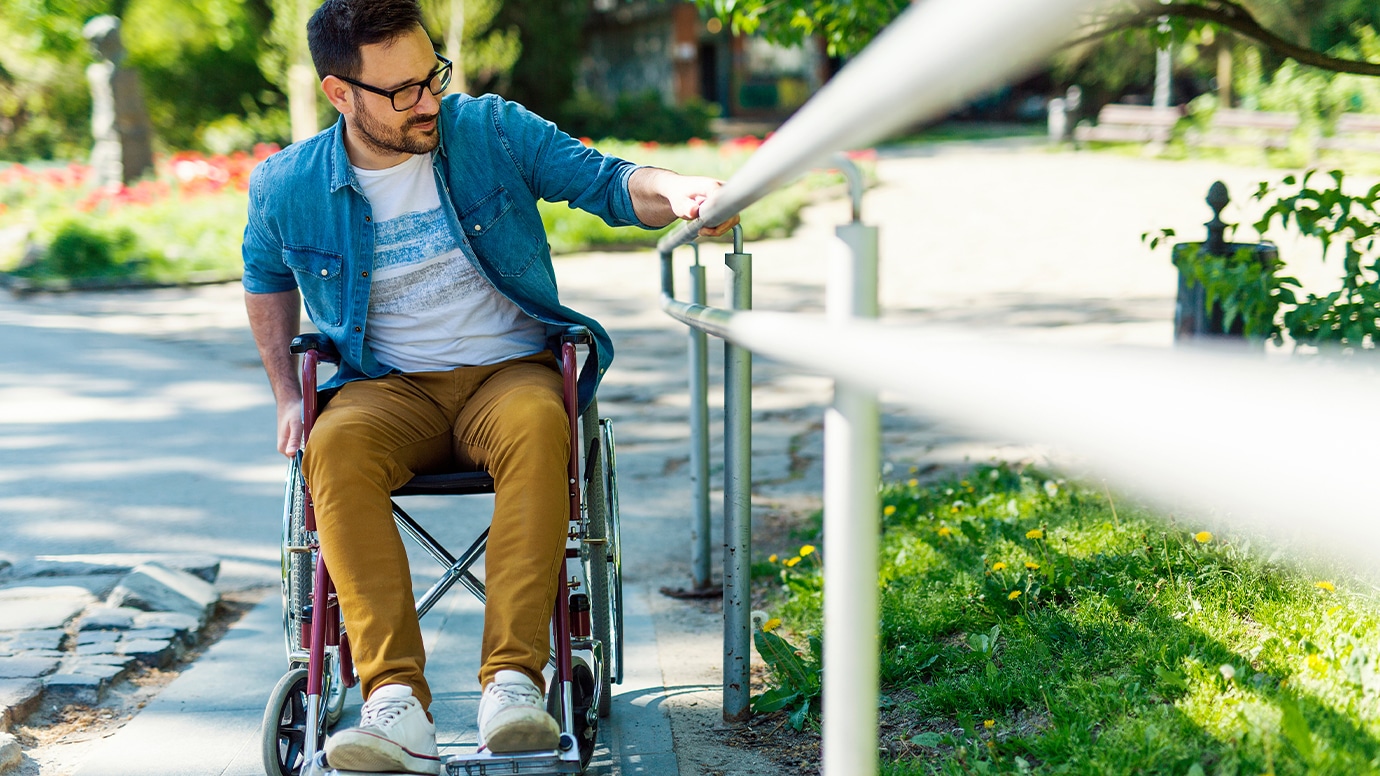 Miami Personal Injury Lawyers
"Fighting for you" ™ the seriously injured in Florida and across the United States
You have your medical care and medical bills to deal with. Let us do the rest. Let Hickey Law Firm help you and your family.  Our Miami personal injury lawyers represent you, the honest person who has suffered life changing injuries.  We earn our reputation every day as fierce trial lawyers.  We are "fighting for you" against insurance companies, cruise lines, and global corporations.
When you are hurt, we are here.
We listen. We plan. We execute the plan. We fight for you.
Contact us today for a free consultation and let our family take care of yours.
Most Americans are struggling. Working more and getting less. But Hickey Law Firm represents you for free; you pay nothing unless we win.
"FIGHTING FOR YOU™". It's not just a slogan. It's who we are and what we do.
Free Consultation
Fee is Free - You Don't Pay Unless We Win
What kinds of cases does Hickey Law Firm handle?
Hickey Law Firm handles – and has handled – all personal injury and wrongful death cases. We specialize in representing people with life-changing injuries. And we represent people in cases in Miami and throughout Florida and the United States. We represent children and adults who have suffered, or the families of those who have suffered:
Spine (vertebrae) injuries
Paralysis (paraplegia, quadriplegia)
Nerve injuries (including chronic pain syndromes or neuropathic pain such as CRPS and Central Pain Syndrome)
Orthopedic injuries (including fractures of bones and tears of tendons and ligaments)
Organ injury and internal damage
Loss of an arm, leg, or other parts of the body
Sepsis
Infections
Trauma from sexual assault and rape
Scarring
Disfigurement
Loss of hearing
Loss of vision
Loss of smell
Loss of taste
Huge injuries – life changing injuries – are our specialty. And they always have been. Our Miami personal injury attorneys have the resources, the people, and the money to fight the largest corporations in state or Federal Court. We know how to handle it all.
When the stakes are high,
people choose Hickey Law Firm.™
Should I hire a Specialist for cruise ship and maritime injuries?
Yes. Cruise ship accidents and all maritime accidents apply maritime law. For that reason alone you need a maritime specialist. For cruise ship accidents, you need a lawyer who knows how cruise ships operate, what documents and videos the cruise lines generate, and the laws which the cruise ship and other maritime accidents are subject to. The lawyer who enters this field also needs to know which cases have to be filed in Federal Court and how Federal Court works.
Hickey is Board Certified by The Florida Bar in Admiralty & Maritime. This is a specialty. Less than 1% of all lawyers in Florida have this certification.
Hickey Law Firm is recognized by the Best Lawyers in America publication in 3 areas, Admiralty & Maritime, Medical Malpractice, and Personal Injury-Plaintiffs'. That alone makes Hickey Law Firm uniquely qualified to handle maritime personal injury cases.
And Hickey started his career representing the cruise lines. He defended in personal injury claims 3 of the major cruise lines for the first 17 years of his career.
WAS A LAWYER FOR THE CRUISE LINES.
NOW A LAWYER FOR YOU®
Further, Hickey is recognized as a leader nationally. He has been interviewed on TV, on radio, and in magazines and newspapers. You may have seen him interviewed on CNN, ABC, NBC, CBS, Fox News, MSNBC, and others. Hickey has been on TV for 20 years and interviewed on national and international TV over 50 times.
Hickey lectures other lawyers and writes papers on this area of the law. He has lectured at meetings and conventions of national organizations such as the American Association for Justice (AAJ), National Trial Lawyers (NTL), The Florida Bar, and the Florida Association for Justice (FJA). Hickey has lectured in Florida, Georgia, Virginia, New York, New Jersey, Louisiana, California, Arizona, and Washington state to name a few.
Contact Hickey Law Firm today. It is free. You don't pay unless we win. We handle your claim and can walk you through cruise ship accident claims for:
Negligent security
Negligence in operation of the cruise tender
Negligence in any aspect of the operations of a ship or the excursion which results in injury
Negligence on the gangway, on the tender boat, or otherwise getting people onto or off of the ship
Hickey Law Firm also handles recreational maritime injury claims involving boating (dive boats, tour boats, cruising boats, speed boats, fishing boats, sail boats, parasailing boats, yachts), personal watercraft (Jet-Skis, Waverunners, Sea Doos, and other products) jet surfboards, kayaks, canoes, windsurfers, surf boards, swimmers, divers, paddle boards, kite surf boards, and parasailing.
Can Hickey Law Firm help with a motor vehicle accident in Miami?
The Miami accident injury lawyers of Hickey Law Firm can help. Contact us to learn more if you were injured in a:
Truck accident, including tractor-trailers, delivery trucks, flatbeds, dump trucks, construction vehicles, and other commercial trucks
Motor home accidents
Rideshare accident involving Uber, Lyft, Via, Gett, Wingz, Blablacar, Ola Cabs, Waze Carpool, Juno, Zimride, DiDi, HopSkipDrive, Carma, etc.
Bicycle accident
Pedestrian accident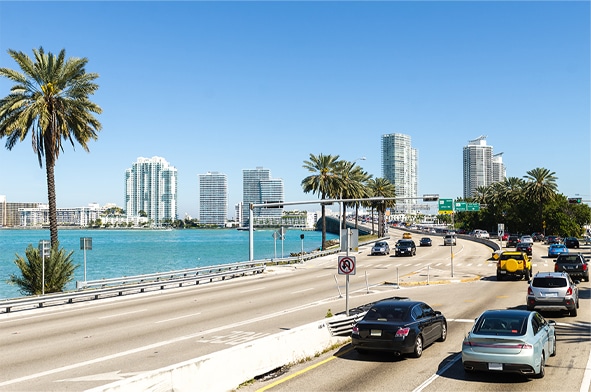 Hickey Law Firm is recognized by the prestigious publication Best Lawyers of America in 3 areas including Personal Injury-Plaintiffs. Hickey is Board Certified by The Florida Bar in the area of Civil Trial Law continuously since 1990. And Hickey is a Past Chair of the American Association for Justice (AAJ) Motor Vehicle, Premises Liability Section.
Hickey Law Firm represented a bicyclist who was hit from behind by a car. This happened in Coral Gables. The rider of the bicycle was thrown off the bicycle and suffered fractures in his ankle requiring surgery. The driver of the car had only $100,000 of insurance. The insurance company chose to fight.  We did. And we recovered for our client $400,000. (Settled August, 2022).
Can you help with train accidents in Miami and throughout Florida?
Hickey started his career defending railroads. Now he represents people injured as a result of the negligence of the railroads. This includes crossing accidents (involving cars, trucks, or pedestrians), and accidents involving railroad workers under the FELA. Call us. We can help.
What kinds of personal injury lawsuits do you handle?
Our Miami, Florida personal injury lawyers have the experience, resources, and the will to win every kind of personal injury claim where there are life-changing or fatal injuries. These include claims for:
QUALITY OVER QUANTITY.
Large enough to handle the most catastrophic injures. Small enough to provide quality, focused representation. Some firms say they are for everyone. We are not. We are for you, the person suffering from life changing injuries.
How long do I have to file a personal injury lawsuit in Florida?
The statute of limitations, or time limits, for filing a personal injury lawsuit in Miami – or anywhere in Florida or throughout the country – will vary based on where you file, what kind of suit you file, and what kind of entity you file against. Many personal injury victims in Florida have four years to file suit. Some only have two years. Many maritime cases for cruise passengers require suit in one year of the incident and they require notice of the claim with full particulars within six months of the incident.
Your best bet is to contact one of the Miami injury lawyers of Hickey Law Firm as soon as you possibly can, so that you will not be time-barred from collecting the compensation you need and deserve.
How much is my Miami personal injury case worth?
Every injury case is different. No attorney worth their salt would promise you a set amount. What we can say is that under the law, you can make a claim for damages (i.e., compensation for your losses) for the following:
Medical expenses
Lost income in the past
Lost earning capacity for the future
Pain
Suffering
Mental anguish
Loss of enjoyment of life
Physical impairment
Scarring
Disfigurement
Disability
Loss of consortium, society, and affection
Predeath pain and suffering of a decedent
Loss of companionship and guidance
Loss of support and services
Loss of net accumulations
Our goal is simple: To get you the maximum amount of compensation you are entitled to receive, so that you can focus on healing, without fear for the future.
WAS A LAWYER FOR THE CRUISE LINES.
NOW A LAWYER FOR YOU®
How involved do I need to be in my personal injury case?
Hickey Law Firm is your partner when you are injured. That is why our clients always work with a team of two attorneys and two paralegals; we want to ensure that you always have access to someone who can answer your questions and address your concerns.
Filing a personal injury lawsuit or making a claim for compensation from an insurance company is a team effort. We handle the courts, the insurance companies, the negligent parties and more – but you have a role, too. As an injured plaintiff in a personal injury lawsuit, here is what you need to do:
Be honest and open about what happened. All conversations between you and your attorney are confidential and privileged. Tell us your story in full, and we can make sure you are protected.
Stay on top of deadlines. There are going to be times where we need you to sign important paperwork or come to meetings. We know that emergencies pop up and sometimes life throws us curveballs, but missed deadlines can delay your claim. We're fighting for your future, and we need your help to do that.
Bring us whatever documentation you have. Bring us pictures of the incident and of your injuries, your medical reports and medical history, a copy of any incident or police reports, and the names of people who witnessed what happened. We can help you track this down, but anything you can bring to your meetings is helpful.
Stay off social media. We know you want to tell your story, and we want you to tell it – but online is not the place. This is for your own protection. Opposing counsel will twist your words and use your pictures against you. Once you file a lawsuit or claim, don't put anything online; it can AND WILL be used against you.
Do you have a Miami personal injury attorney near me?
Hickey Law Firm is located at 1401 Brickell Avenue, Suite 510, in Miami, right off US 1 and one block from the ocean. We serve the seriously injured in Miami, throughout Florida, and across the country. If you are too injured to travel, we can come to you, or schedule a phone or video conference instead.
Experience. Leadership. Results
When you are injured, you want Hickey Law Firm
Living with an injury is hard. Choosing the best Miami injury attorneys for your needs shouldn't be. If you have suffered any injuries as the result of another person's negligence or wrongdoing, you may be entitled to compensation. Contact Hickey Law Firm by calling 305-371-8000 or filling out our contact form today to discuss your case. We'll help you determine if you have a case and answer any questions you may have. All initial consultations are free, and every case is taken on a contingency basis.
Related News and Articles
Nobody Fights Harder. Nobody Fights Smarter. Nobody.®

Hickey Law Firm – Call us today.