Slip and Fall In Walmart; Evidence of Length of Time A Grape Was On The Floor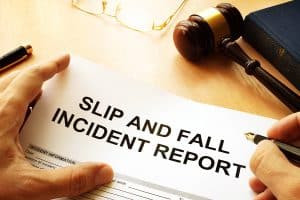 Slip and fall cases are not easy.  The person who slipped and got hurt has to show that the condition on the floor, whether it is a puddle of water or something else, was there for a period of time so that the operator of the business should have known about it.  In fact, there is a statute (written law) in Florida which says this.  The statute is Fla. Stat. Sec. 768.0755.  The statute says in part:
[i]f a person slips and falls on a transitory foreign substance in a business establishment, the injured person must prove that the business establishment had actual or constructive knowledge of the dangerous condition and should have taken action to remedy it. Constructive knowledge may be proven by circumstantial evidence showing that:
(a) The dangerous condition existed for such a length of time that, in the exercise of ordinary care, the business establishment should have known of the condition; or
(b) The condition occurred with regularity and was therefore foreseeable.
Last week, a Federal appeals court, the Eleventh Circuit Court of Appeals, published an opinion in a slip and fall case against Walmart.  The case was Vanessa Sutton v. Walmart Stores East, LP. Case No. 22-10162 (11th Cir. 2023).  In that case, Ms. Sutton slipped and fell on a grape.  She testified that the grape had skid marks and step marks in it and that the marks were not made by her.  The trial court (lower court) granted Walmart's Motion for Summary Judgment (dismissing the case) saying that the plaintiff could not show how long the grape had been on the floor.  The 11th Circuit reversed and said that there is some evidence that the grape was there for more than an hour.  That evidence is that the area where the grape was found was streaked and had foot or shoe prints.  And the video of the area, which ran for an hour, does not show anyone spilling or putting a grape on the floor.  So, it appears that the grape was there for at least an hour.  Therefore, a jury will have to decide the issue of how long the grape was there.
The appellate court reconfirmed that circumstantial evidence can show how long something was on the floor.  There are many examples of such circumstantial evidence like the size of the wet area, whether there are scuff marks or shoe prints in the puddle or area, dirt built up in the area, or that the substance had dried up.  The Court in Sutton said:
First, and primarily, Sutton's own testimony created a jury issue on constructive notice.  Sutton did not see the grape before she fell. After the fall, however, she testified that she saw a "dirty" grape with "track marks going through the grape and liquids," as well as "footprints."  Time and again, Florida's appellate "courts have found constructive notice" when "the offending liquid was dirty, scuffed, or had grocery-cart track marks running through it," or if there was "[o]ther evidence such as 'footprints, prior track marks, changes in consistency, [or] drying of the liquid.'"  Norman v. DCI Biologicals Dunedin,  LLC, 301 So. 3d 425, 429–30 (Fla. 2d DCA 2020) (second alteration in original) (quoting Palavicini v. Wal-Mart Stores E., LP, 787 F. App'x 1007, 1012 (11th Cir. 2019) (per curiam)); see also  Welch v. CHLN, Inc., —  So.   3d  —-, No. 5D22-357, 2023 WL 2542275, at *2–3 (Fla. 5th DCA Mar. 17, 2023); Mashni v. Lasalle Partners Mgmt. Ltd., 842 So. 2d  1035, 1037–38 (Fla. 4th DCA 2003); Cisneros v. Costco Wholesale Corp., 754 So. 2d 819, 821 (Fla. 3d DCA 2000); Colon v. Outback Steak- house of Fla., Inc., 721 So. 2d 769, 771 (Fla. 3d DCA 1998); Woods v. Winn Dixie Stores, Inc., 621 So. 2d 710, 711–12 (Fla. 3d DCA 1993) (per curiam); Zayre Corp. v. Bryant, 528 So. 2d 516, 516 (Fla. 3d DCA 1988) (per curiam); Camina v. Parliament Ins. Co., 417 So. 2d 1093, 1094 (Fla. 3d DCA 1982) (per curiam); Winn-Dixie Stores, Inc. v. Guenther, 395 So. 2d 244, 246 (Fla. 3d DCA 1981).
Also, the Court said that evidence of track marks or foot prints alone probably is enough to show that the dangerous condition was in existence for a sufficient period of time.  The Court said in a footnote:
2 Wal-Mart also relies on Berbridge v. Sam's East, Inc., 728 F. App'x 929 (11th Cir. 2018) (per curiam), and a slew of  federal district court cases, claiming that in addition to evidence of a track mark or footprints a plaintiff must offer something more to create a genuine dispute of material fact. Unlike the large body of Florida case law we have cited, these cases are not binding on this Court. Rather, we are obliged to follow Florida's appellate courts in discerning Florida law.  But, in any event, Wal-Mart misapprehends some of their holdings — which actually support reversal here.  In Berbridge, for instance, "the fact of a 'dirty' liquid substance" without additional evidence was not enough to survive summary judgment, but a panel of this Court observed that additional "circumstances . . . could support an inference of constructive knowledge." Id. at 933. Likewise, in one district court case, Ayers v. Wal- Mart Stores, East, L.P., "[i]t [was] undisputed that the water was clean with no footprints, track marks, or smudges," so there were no additional facts establishing constructive notice. No. 15-24663-CIV, 2017 WL 747541, at *1–3 (S.D. Fla. Feb. 27, 2017).
Three other district court cases cited by Wal-Mart suggest that a plain- tiff needs something more than a track mark or footprints to reach a jury. See Hernandez v. Sam's E., Inc., No. 20-CV-61648, 2021 WL 1647887, at *5 (S.D. Fla. Apr. 26, 2021); Granela v. Wal-Mart Stores E., L.P., No. 19-cv-23726, 2021
WL 768271, at *3 (S.D.  Fla. Feb. 26, 2021); Rubiano  v. Costco Wholesale Corp., No. 15-cv-24291, 2016 WL 7540571, at *3 (S.D. Fla. Oct. 4, 2016). Again, these cases are not binding, and they do not accurately recount Florida law. See Woods, 621 So. 2d at 711 ("[T]racks in a substance generate[] [a] sufficient inference[] of constructive notice.").
Finally, the Court reviewed the cases in Florida which dealt with the amount of time that the puddle or spill or dangerous thing was on the floor.  4 minutes and 13 minutes in some cases is not enough.  "At least 15 to 20 minutes" has been held to be sufficient time to show that the business should have picked it up or cleaned it up and posted a warning sign.  The Court said:
When considering whether there is an issue of fact for submission to a jury in transitory foreign substance cases, courts look to the length of time the condition existed before the accident occurred."  Wilson-Greene v. City of Miami, 208 So. 3d 1271, 1275 (Fla. 3d DCA 2017). Florida's courts have found "at least fifteen to twenty minutes . . . to be sufficient for defendants to be charged with knowledge of the condition and a reasonable time in which to correct it." Winn Dixie Stores, Inc. v. Williams, 264 So. 2d 862, 864 (Fla. 3d DCA 1972);1 accord Lynch v. Target Stores, Div. of Dayton Hudson Corp., 790 So. 2d 1193, 1194 (Fla. 4th DCA 2001) (per curiam).  Other decisions in Florida have determined that thirteen minutes or less is not enough time.   See Oliver v. Winn-Dixie Stores, Inc., 291 So. 3d 126, 127–30 (Fla. 4th DCA 2020); see also Walker v. Winn-Dixie Stores, Inc., 160 So. 3d 909, 912 (Fla. 1st DCA 2014) (holding "less than four minutes" to be insufficient).
Hickey Law Firm is a premier personal injury law firm based in Miami and serving clients in Florida and throughout the country. To schedule a free consultation with an experienced premises liability lawyer from, please call us or fill out our contact form.