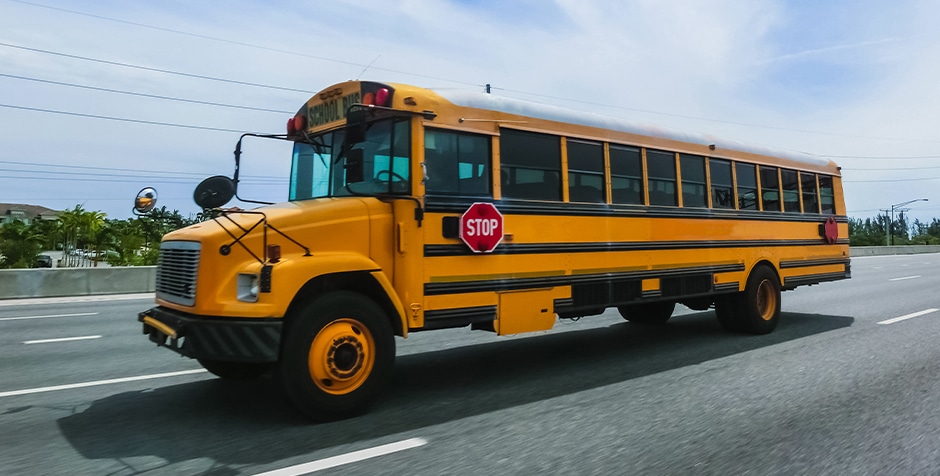 Miami Bus Accident Lawyers
Protecting riders of commercial and public bus lines when deaths or injuries occur
There are many different public and private bus lines in Florida. Buses take children to and from school every day. Tornado Bus, Greyhound, and FlixBus are some of the private lines that transport people throughout the state, as well as other private lines that bring people to see Miami's great sights from beyond Florida. Locally, residents of Miami use Metrobus to see friends, run errands, and get to work. Bus owners and drivers need to be especially careful because buses carry so many people, and accidents can cause deaths or serious injuries.
At Hickey Law, we handle the tough cases other lawyers find too hard to handle. We're ready to file claims against government bus owners and private bus owners. We handle cases where there are multiple claimants. We are quality over quantity. We don't have hundreds of lawyers, we have a few. We don't have thousands of clients, we have a good number. We don't advertise on TV.  We get interviewed on TV ... and in magazines, on RADIO, IN newspapers, and by online media. And we are not for everybody.  We are for you, the honest person who was seriously injured.
WHEN PEOPLE NEED A SPECIALIST IN LIFE CHANGING INJURIES,

PEOPLE CHOOSE HICKEY LAW FIRM.
Free Consultation
Fee is Free - You Don't Pay Unless We Win
How often do bus accidents happen in Florida?
The Florida Department of Highway Safety reported in 2020 that there were more than 4,500 bus accidents, with seven victims suffering incapacitating injuries. In 2019, the year before the pandemic (when many buses didn't operate full-time), there were more than 30,000 bus accidents – with 56 incapacitating injuries and 364 non-incapacitating injuries.
Miami has more than its share of bus accidents because there are many types of buses that are regularly used:
Buses pose dangers that passenger cars do not. If an accident happens, then many more people are likely to be injured or killed. Buses are more prone to rollovers due to their design. They are more difficult to control because of their size, dimensions, and weight. Generally, buses are not equipped with seatbelts and airbags which means victims are likely to suffer more life-changing injuries than car occupants.
Why do bus accidents in Miami happen?
Public and private buses are generally classified as common carriers – if they transport people for a fee and make their services open to the public. Common carriers are governed by both federal and Florida laws to ensure the safety of the public. Commercial bus drivers must have a commercial driver's license to operate their vehicle.
The federal and state laws generally require that buses undergo regular pre-trip inspections and be taken out of service when repairs are need. The laws generally also require that schools, public, and private bus companies vet their drivers to help ensure the safety of children and adult passengers.
At Hickey Law Firm, we represent victims and families when a Miami bus accident is caused by:
Blind spots. Buses have blind spots due to their length and width. Many drivers fail to know where the blind spots are and how to navigate the bus safely through those blind spots.
Driver distractions. Bus drivers need to know their routes and not rely on looking at a GPS system. They should have a hands-free system to speak with supervisors. They should never text while driving or use their smartphone while driving. Drivers need to understand how to avoid becoming distracted by unruly passengers.
Driving while fatigued. Many bus operators drive long routes and repeat shifts. Drivers who are tired can cause fatal and serious Miami bus accidents.
Traffic rule violations. In addition to the normal rules for all drivers such as obeying speed limits, bus drivers and drivers who are near a bus (especially a school bus) should know the specific bus rules that apply – such as stopping at a safe distance from a bus that is discharging or picking up passengers.
Driving while intoxicated or under the influence of drugs. No bus driver should ever drive while he/she is intoxicated.
Bus drivers can be held responsible if they drive too fast for weather conditions, drive too fast for traffic conditions, make wide turns without using proper caution, and for many other reasons. Drivers and bus companies may also be responsible for Miami bus accidents if the driver lacks proper training, the bus is overloaded with too many passengers, or the bus lacks the proper safety equipment.
In addition to ensuring the safe operation of the bus, bus drivers need to ensure passengers don't slip and fall while entering or exiting the bus or while the bus is in transit.
WAS A LAWYER FOR THE INSURANCE COMPANIES.
NOW A LAWYER FOR YOU.
Who is responsible for a Miami bus accident?
At Hickey Law Firm, we understand the unique challenges of determining who is liable for a Miami bus accident. Some of the possible defendants include:
The bus driver
The school district that owns a school bus
A private company or municipality that owns a public bus
A private company that owns a private bus
Any company or organization that hired the bus for a private function
Manufacturers of defective bus parts
The Florida Department of Transportation, the state of Florida, Miami-Dade County, and other governmental agencies/entities if they failed to properly design roads or maintain hazardous roads
Maintenance and repair companies
Drivers of other vehicles that caused the bus accident
Owners of other vehicles that caused the bus accident
Additional defendants may be liable depending on how the accident happened and the type of bus involved in the accident.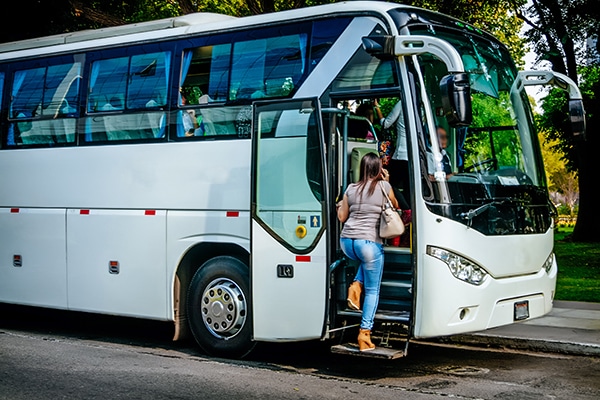 What types of injuries do bus accident victims suffer?
When bus accidents happen in Miami, the victims often suffer life-changing injuries. At Hickey Law Firm, we represent bus accident victims who suffer:
Spinal cord damage or paralysis
Head trauma including TBIs
Burn injuries
Orthopedic injuries
Nerve injuries
Back, shoulder, and neck injuries
Internal organ damage
Tissue, ligament, and muscle damage
Any other type of serious injury
Are there any unique issues involved in Miami bus accident claims?
There are some unique limitations and factors involved in filing claims due to a bus accident:
Generally, only injured victims in private vehicles such as your own car can file a Personal Injury Protection (PIP) claim.
There may be caps on the amount you can recover against a governmental entity or agency.
There may be different timelines for filing a claim if the defendant is a governmental entity or agency. Normally, the statute of limitations for a personal injury claim is four years. The statute of limitations against a governmental defendant is three years and you must provide prompt notice of the claim so the governmental agency/entity can conduct its own investigation.
The transit laws are somewhat different.
Normally, there are multiple claimants because buses carry many passengers in addition to the driver.
Do you have a bus accident lawyer near me?
The office of Hickey Law Firm is located at 1401 Brickell Avenue, Suite 510 in Miami, Florida. We meet with bus accident victims away from the office when necessary.
SOME FIRMS SAY THEY ARE FOR EVERYONE.

WE'RE NOT. WE ARE FOR YOU, THE HONEST, SERIOUSLY INJURED PERSON.
Speak with Hickey Law Firm in Miami today
At Hickey Law Firm, our personal injury lawyers are respected by former clients, insurance companies, and defense lawyers for our strong results. We've obtained numerous settlements and verdicts for millions and hundreds of thousands of dollars – in many different types of personal injury cases including vehicle accidents.
The Best Lawyers in America© recognizes John H. (Jack) Hickey in 3 areas: Admiralty and Maritime Law, Personal Injury Litigation – Plaintiffs, and Medical Malpractice –¬ Plaintiffs.
Attorney John H. (Jack) Hickey is double board certified by The Florida Bar in Civil Trial and Admiralty and Maritime Law, distinctions held by few attorneys in Florida. He is also board certified in Civil Trial by the National Board of Trial Advocacy (NBTA).
To assert your right to compensation after a bus accident in Miami, Florida, or the US, call 305.371.8000 or fill out our contact form to schedule a free consultation. At Hickey Law, initial consultations are FREE. You pay ABSOLUTELY NOTHING until and unless we recover compensation for you.
Nobody Fights Harder. Nobody Fights Smarter. Nobody. ®

Hickey Law Firm – Call us today.