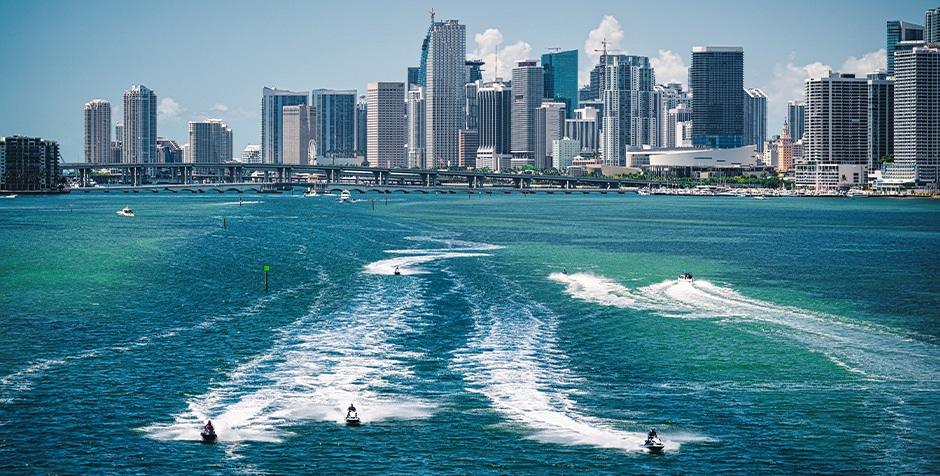 Jet Ski Accident Attorneys in Florida
Advocacy for jet ski and personal watercraft accidents throughout Florida
Jet Skis are incredibly popular in Florida. They also offer several opportunities for serious or even fatal injury. When jet ski accidents are the result of someone else's negligence, be that of a rental company, manufacturer, or others on the water, victims may be entitled to seek compensation for all related damages.
Hickey Law Firm, led by double-board certified attorney John H. (Jack) Hickey, specializes in maritime and admiralty law, as well as civil trial law, and has extensive experience with accidents involving personal watercraft. When a Jet Ski, Wave Runner, or other vessel malfunctions or you sustain an injury due to someone else's actions, you may be entitled to compensation following an accident. Our Florida attorneys are here to review your case and help you determine the best course forward.
EXPERIENCE. LEADERSHIP.
RESULTS. ®
Free Consultation
Fee is Free - You Don't Pay Unless We Win
What is a personal watercraft (PWC)?
PWC stands for personal watercraft and may refer to any number of recreational watercraft on which the rider sits or stands. Unlike boats, PWC, also known as water scooters, do not have sides and often have room for only one person.
Jet Ski, manufactured by Kawasaki, was one of the first personal watercraft to become trademarked and has since commonly been used to refer to all types of PWC, but there are actually several names for these vessels, including Sea-Doo, WaveRunner, AquaTrax, and Sealion. Companies involved in manufacturing PWC include Honda, Yamaha, Polaris, and Arctic Cat.
How common are Jet Ski accidents in Florida?
Jet Ski accidents are quite common in Florida, with both novice and experienced riders, but particularly with those new to the experience. In the state of Florida, rental companies are required by statute to provide training for novice riders, even when riders will be part of a tour. Sadly, these specific regulations are not always followed.
Research conducted by the Florida Fish and Wildlife Commission found that Miami-Dade County had the highest number of PWC accidents in 2021, with the Florida Keys coming in a close second. Both of these are popular tourist destinations, but tourists are not the only victims of PWC injuries. Many experienced riders fall victim to injury as well – often in accidents that could have been avoided.
The injury attorneys at Hickey Law Firm can help determine the cause of your accident and who should be held responsible.
WAS A LAWYER FOR THE CRUISE LINES.
NOW A LAWYER FOR YOU ®
What are some common causes of Florida Jet Ski accidents?
Common causes of Jet Ski accidents in Florida include:
Poor or inadequate training
Inexperienced riders
Speeding
Reckless operation
Drug and alcohol use
Equipment failure
Collision
Poor maintenance
Inclement weather
Some of these causes may be related to the operator of the vessel, but others are beyond their control. When an accident is the result of someone else's negligence, victims have the option of seeking recourse through legal action. Jet Ski accidents fall under maritime law. This specialized area of the law requires an attorney who has sufficient experience for successful navigation.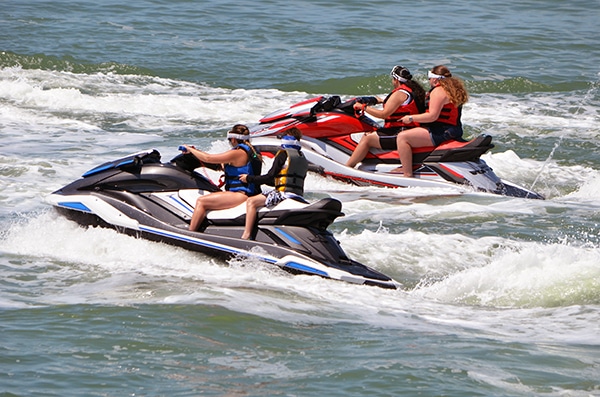 When you are injured in a jet ski accident, even if you suspect your actions played a role, it is a good idea to have a Miami maritime lawyer review your claim. In addition to maritime law, there are specific Florida Statutes that apply to personal watercraft accidents.
Who is liable for my Jet Ski or PWC accident in Florida?
There may be several parties responsible for an accident involving PWC. These include the rider, boaters, swimmers, others in the water, a Jet Ski manufacturer, equipment provider, rental company, or mechanic. The best way to determine who is liable for your accident is with the help of an experienced Florida jet ski accident attorney. It is important to remember that, in the state of Florida, the operator or owner of the vessel which caused the crash may file a Limitation of Liability Act (LOLA) case in Federal Court under Title 46 of the United States Code. Under the LOLA, the owner of a vessel can file an action to offer the court the value of the vessel.
If a vessel owner is successful in a LOLA action, their liability is limited to the value of the vessel. With a PWC, that value may be practically nothing compared to the actual value of your injury claim. There are, however, exceptions to the limitation of liability under this statute, especially in cases where the owner or master of the vessel had prior knowledge of negligence. Once again, it is best to have an experienced PWC attorney on your side in these cases to help ensure negligence is properly identified so our Miami attorneys can take the right steps to secure maximum compensation.
Can I sue a Jet Ski manufacturer for my accident and injuries?
In cases where a vessel was faulty, poorly designed, or improperly manufactured, the company that designed and built a PWC may be found liable for damages. This typically requires an independent investigation, and the legal team at Hickey Law Firm is prepared to do so on your behalf.
What damages am I entitled to after a Florida Jet Ski accident?
Damages that are common in personal injury claims include:
All related medical expenses
Wages lost during recovery and lost earning potential
Property damage
Home modifications made necessary by the injury
Adaptive technology, such as wheelchairs made necessary by the injury
Pain, suffering, and emotional damages
Burial and funeral expenses, in the event of a wrongful death
However, the best way to determine what your claim may be worth is through a one-on-one consultation with an experienced and dedicated maritime accident lawyer.
WHEN THE STAKES ARE HIGH,
PEOPLE CHOOSE HICKEY LAW FIRM. ™
Do you have a Jet Ski accident lawyer near me?
Hickey Law Firm is located at 1401 Brickell Avenue, Suite 510, in Miami, right off US 1 and just a few blocks from the ocean. We serve the seriously injured in Miami, throughout Florida, and nationwide. If you are too injured to travel, we can come to you. We can also schedule a phone or video conference.
Florida Jet Ski accident attorneys dedicated to protecting your rights
After a PWC or Jet Ski accident, Hickey Law Firm is here to help. Having a Miami attorney on your side helps ensure a full investigation into the cause of your accident and injuries. This is essential for establishing liability and determining the worth of your claim. Without a lawyer on your side, you may settle for much less than you are due, a decision that may have far-reaching consequences.
To schedule a meeting with an experienced member of our team, call 305-371-8000 or fill out our contact form today. Initial consultations are free, and every case is taken on a contingency basis.
Nobody Fights Harder. Nobody Fights Smarter. Nobody. ®

Hickey Law Firm – Call us today.