Another Brightline Train Hit a Miami Pedestrian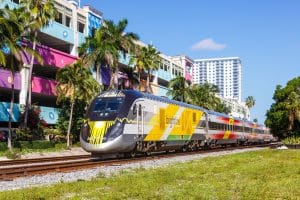 The Miami Herald is reporting that a pedestrian was hit by a Brightline train this morning, near Northeast 79th Street and Fourth Avenue in Miami. The man who was hit is apparently in serious condition, but he's alive.
We hope that the man survives and that he will ultimately recover from his injuries. We also hope this latest collision finally spurs The National Transportation Safety Board into action, because Brightline trains are deadly.
Since its inception in 2017, Brightline commuter trains have killed at least 88 people. In 2019, the Associated Press said that Brightline had "the worst per-mile death rate of the nation's 821 railroads." Per the Miami New Times, there have been at least five pedestrian deaths attributed to Brightline trains in 2023.
Why do Brightline trains keep killing pedestrians?
Brightline trains were supposed to reduce congestion and traffic. The trains travel at about 79mph for a length of 70 miles, meaning you could get from West Palm Beach to Miami in about an hour and not have to worry about traffic or parking. The Orlando station should be opened this summer.
The problem is that Brightline uses older train tracks – and there are very few safety systems in place. Susan Mehiel, with Alliance for Safe Trains, claims that "there are not enough safety features, including pedestrian gates, pedestrian channeling, pedestrian bridges and fencing" to keep pedestrians away from the tracks.
The Brightline runs on tracks which are at grade.  That is, these are tracks at street level. They are not raised and they are not in tunnels like railroad track are in the northeast. And these tracks do not have walls around them. Why? Because these tracks were laid throughout the eastern coast of Florida over 100 years ago. At that time, all or almost all of the places in which the tracks were laid were rural. They went through undeveloped land. There were few roads and people. Now the times and the communities have changed. But the tracks have not changed with the times.
Using older tracks probably kept Brightline's costs down, but they have not put any of that "saved" money into making those tracks safer.
Nor do they have to, in terms of federal regulations and laws, because Brightline is privately owned. They don't answer to the federal government (though the company absolutely took money from it); they answer to investors.
Meanwhile, they operate in some of the most populous areas in Florida. A 2022 report by NBC 6 South Florida reports that Broward County had the greatest number of collisions and casualties involving trains, cars, and pedestrians. Per their findings, "the crossings with the most casualties and collisions were NE 33rd street in Deerfield Beach, Copans Road in Pompano Beach, and between Atlantic Boulevard and NW 6th Street in Pompano Beach."
Lots of people + fast trains + not enough safety equipment = a tragedy waiting to happen.
Why you want Hickey Law Firm on your side after a Brightline train collision
Train collisions are among the most devastating accidents there are. Pedestrians, motorcycle riders, cyclists, drivers and passengers can be catastrophically injured or killed. Filing a claim against a private company like Brightline or against a city, state, or federal agency requires experienced and aggressive counsel.
Hickey Law Firm is your choice when you have life-changing injuries because we have:
Experience: Not only do we have more than 60 combined years of experience fighting on behalf of the seriously injured, we are led by John H. "Jack" Hickey, who is double-Board Certified by The Florida Bar in Civil Trial and Admiralty & Maritime. He is also Board Certified as a trial lawyer by the National Board of Trial Advocates (NBTA). No other Florida firm has this combination of certification and experience. He represented railroads, cruise lines, and insurance companies for the first 17 years of his career.
Leadership: Hickey holds several leadership positions throughout the United States. He is a Past President of the Dade County Bar Association (DCBA); a former State Delegate of the American Association for Justice (AAJ) and currently serving on its Board of Governors; a past member of The Florida Bar Board of Governors; and serves on the Board of Directors of the Florida Justice Association (FJA). When it comes to the law in Florida, Jack Hickey knows it inside and out, front to back.
Results: Hickey Law Firm has recovered more than $100 million for injured clients in Florida and around the country. We know what it takes to build a winning case for you, the seriously injured person.
Hickey Law Firm is not afraid to take on global corporations or government agencies. We have the resources to handle the most complex claims there are, which means we can handle any case involving any train in Miami or throughout Florida. You deserve a specialist on your side; with Hickey Law Firm, you're guaranteed to have one.
We are NOT the biggest firm. We are like Seal Team 6: a highly specialized team that can take on the toughest cases and get the job done.
Now more than ever is the time to hire a firm like Hickey Law Firm if you are injured. Florida's laws are changing and making it easier for the insurance companies, not the people who are hurt. We won't back down. We won't give up. We are here to fight back on your behalf. We're based in Miami but represent injury victims all over Florida. If you or a loved one suffered injury in a collision with a train, Hickey Law Firm is ready. Call or contact us today to schedule a free consultation.
Nobody Fights Harder. Nobody Fights Smarter. Nobody.®
Hickey Law Firm – Call us today.