U.S. Attorney Announces Guilty Plea in Cruise Ship Rape Case
According to Newsweek, the U.S. Attorney's Office for the District of Massachusetts has announced that a man who was charged with raping a minor aboard a cruise ship in 2017 has pleaded guilty.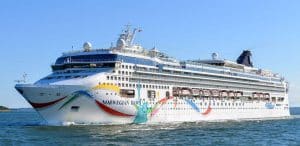 32-year-old Adam Christopher Boyd has admitted to raping an intoxicated 15-year-old boy as the two sailed abord the Norwegian Dawn cruise ship in August 2017. The boy notified criuise ship authorites after the rape, who then notified authoriteis in Bermuda. The ship was docked in Bermuda at the time of the incident.
The assault occurred after Boyd met the victim in the early morning hours of August 14, 2017. The victim was already drunk, and Boyd offered to walk him back to his state room. The two can be seen on surveillance camera together as Boyd asked the boy to accompany him to Boyd's room.
Later in the morning surveillance camera caught Boyd kissing the boy and touching him inappropriately. He then raped the teen in what Newsweek calls "a secluded area of the 14th deck."
After the assault the victim, together with a group of friends, initially looked for Boyd, but the group could not find him. The victim then reported the rape to his family, who in turn reported it to ship officials.
Boyd is facing a minimum of five years in prison, and could be sentenced up to 15 years.
As we noted in blogs last week, the U.S. Attorney's Office for the District of Massachusetts is also investigating another case of cruise ship assault. 45-year-old Adam Damian Panetta of Farmingville, New York is accused of striking a woman in the face as the two sailed aboard the Norwegian Gem cruise ship in late April.