If AAA Responds to Your Call and Causes an Injury, Is It on the Hook?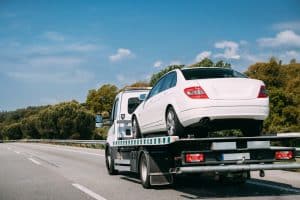 You run out of gas or your car stalls. You are now broken down by the side of the road or on I- 95. You call AAA (American Automobile Association) to get your car towed. The tow truck (which you believe is owned or controlled by AAA) comes out to help you.  The truck pulls in front of your car and out of the way of oncoming traffic. But the AAA truck injures you by:
Hitting you as you get out of your car at the scene.
Using jumper cables which spark and the sparks hit and destroy one of your eyes.
Positioning his truck so that it juts out into traffic and causes a car crash where you are hit by one of the cars in the pile up.
The driver is liable (responsible) for the injuries. The employer of the driver is liable (responsible) for the injuries because the driver was on the job doing the job ("in the course and scope of his employment") at the time.
But what if your injuries are catastrophic?
Car accidents of any kind can cause catastrophic injuries. You could suffer:
Traumatic amputation/loss of limb
Shoulder, neck, and back pain
Vision or hearing loss
Internal organ damage
Other injuries
The medical care alone in the past and future may be millions. You can't work again or at least not at the same good job. And your pain and the inability to do the work or hobbies you love are killing you. So the damages are in the millions.
But the insurance of the gas station which sent the tow truck has insurance coverage of only $1 million. Is anyone or anything else responsible? Is AAA responsible?
The answer is maybe AAA is responsible. If the agreements between the AAA and the gas station and the practice in real life show that AAA exerts a good amount of control over the gas station and the driver who the gas station sends out, AAA may be responsible. And the insurance coverage of AAA will be a lot more than $1 Million. That all depends on these agreements and the communications (emails, letters, and calls) between AAA and the gas station over the years of their relationship. That requires good, aggressive lawyering to get. But it may be worth it.
Hickey Law Firm has many impressive car accident case results. We have won millions for our clients.
At Hickey Law Firm, our Miami car accident are quality over quantity. We are for you, the honest person who was seriously injured.
Call us in Miami today or fill out our contact form. The initial consultation is free. You pay NOTHING until after we win your case. Serving all of Florida.