Norwegian Pearl Cancellation Leaves Thousands Stranded in Rome
Two days ago we blogged about Norwegian Cruise Line's decision to cancel a Mediterranean itinerary, scheduled to set sail today, due to mechanical problems. Many of the passengers who were going to sail on the ship had already arrived to Rome in anticipation of their embarkation. Now, those passengers find themselves essentially stranded, as they had booked return flights after July 15th in anticipation of spending ten days on vacation.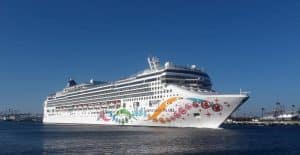 Telegraph.co.uk reports that the 10-day cruise aboard the Norwegian Pearl cruise ship was sold out. Norwegian's decision to cancel the cruise has left nearly 2,400 passengers hanging after having been given just three days notice that the cruise would not go on as planned. Predictably, many of these passengers are now having to pay for accommodations.
Passengers are understandably frustrated with this unexpected turn of events, and some have taken to social media to express their frustration and disappointment.
Really @CruiseNorwegian ? Now we are stuck in Rome for 13 days with no hotel. My bf and I planned this trip 9 months ago, and this is how you treat your loyal customers? #NotCool #GreeceNoMo #NorwegianPearl #NCL #SadDay

— Ricardo Barajas (@ricbar83)
July 3, 2019
#norwegianpearl @CruiseNorwegian refused to pay for my airfare after they cancelled my cruise! I'm out $5200 in airfare because of their actions, plus another $900 in worthless travel insurance. Anyone talking about a class action?

— Steven Judd (@sjhjudd)
July 4, 2019
In a statement, a Norwegian Cruise Line spokesperson said that guests affected by the cancellation "will receive a 100 per cent refund and a 100 per vent future cruise credit, both on the original cruise fare paid. We will also cover up to $300 in flight change fees."
What the company did not say is whether it intends to help defray the costs of lodging, food, and other accommodations that some passengers will be forced to pay in the absence of receiving such accommodations aboard the cruise ship as planned.