Long Beach Approves Cruise Terminal Expansion Benefiting Carnival Cruise Line
TravelPulse.com reports that the Long Beach Planning Commission has given the green light to a plan which would see the city's cruise terminal expanded by approximately 657 parking spots,
fill a 450 foot abandoned tunnel, and reorganize traffic routes.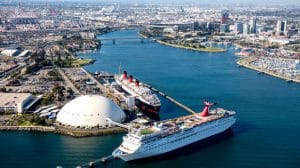 The article states that the planned construction will likely benefit Carnival Cruise Line as the planned expansion will allow the port to host larger ships such as the Carnival Panorama.
This worries some locals, the report indicates, who fear that the large ships could have a larger and more negative environmental impact. Residents across the world are in a similar position, raising their voices against the negative environmental impact cruise ships can bring. Just this week we blogged about protesters in Washington State who are opposing an expansion to a cruise terminal in Seattle. Likewise residents in Venice, Italy have been especially active, even taking to the water in rafts to block cruise ships from entering the port.
In response to the Long Beach residents' concerns, Carnival representative Ernie Chavez said: "I can assure you that Carnival cares about our local environment and is leading the industry." This declaration comes on the heels of the company being assessed a $20 million fine earlier this year for violating probation stemming from dumping pollution in the sea.