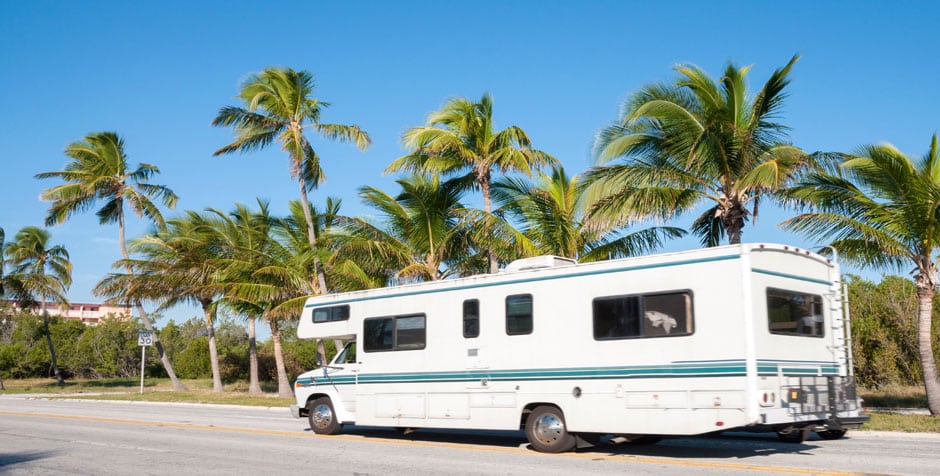 Miami RV Accident Lawyers
Relentless advocacy for victims of motorcoach and RV accidents
Millions of people nationwide use recreational vehicles, RVs, to explore the country, including Miami's great attractions, every year. Traveling by motorhome has numerous advantages over cars. It's more comfortable and convenient to travel with the whole family, and much less expensive to pay the fees to park a motorhome overnight than to stay in a hotel. RVs have all sorts of comforts, such as kitchens, beds, and entertainment systems.
RVs, however, aren't a perfect panacea. Driving a recreational vehicle (RV) or motorhome is difficult due to the width and weight of the vehicle. Special skills are required to drive these huge vehicles, especially in curves and while making turns. The cost of fuel can be very expensive. At Hickey Law Firm, our Miami motorhome lawyers understand the unique issues involved in these types of accidents. We understand why these accidents happen, who is responsible, what injuries, and who is responsible. Our lawyers are recognized nationwide for our record of success in personal injury and motor vehicle accident cases. We'll fight for all the compensation you deserve.
Attorney John H. (Jack) Hickey is a Past Chair of the largest section of the American Association for Justice AAJ –the Motor Vehicle, Highway Safety, and Premises Liability Section and a Past President of the Dade County Bar Association (DCBA), the largest voluntary bar association in Florida. He and his team have the experience and resources to help motorhome and RV victims obtain the just compensation they deserve.
How can we help?
WE WILL LEAD YOU ON THE JOURNEY TO JUSTICE.
WE WILL SHOW YOU THE WAY.

WE WILL EXPLAIN THE PROCESS AND WHAT WE HAVE DONE AND WHAT WE WILL DO. TAKE OUR HAND AND WALK WITH US. WE HAVE A TEAM READY FOR YOU NOW.
Free Consultation
Fee is Free - You Don't Pay Unless We Win
What are the different types of RVs?
Florida State Statute 320.01 provides definitions for multiple types of motor homes and recreational vehicles:
A recreational vehicle-type unit primarily designed as temporary living quarters for recreational, camping, or travel use, which either has its own motive power or is mounted on or drawn by another vehicle. Recreational vehicle-type units, when traveling on the public roadways of this state, must comply with the length and width provisions of s. 316.515, as that section may hereafter be amended. As defined below, the basic entities are:
The "travel trailer," which is a vehicular portable unit, mounted on wheels, of such a size or weight as not to require special highway movement permits when drawn by a motorized vehicle. It is primarily designed and constructed to provide temporary living quarters for recreational, camping, or travel use. It has a body width of no more than 81/2 feet and an overall body length of no more than 40 feet when factory-equipped for the road.
The "camping trailer," which is a vehicular portable unit mounted on wheels and constructed with collapsible partial sidewalls which fold for towing by another vehicle and unfold at the campsite to provide temporary living quarters for recreational, camping, or travel use.
The "truck camper," which is a truck equipped with a portable unit designed to be loaded onto, or affixed to, the bed or chassis of the truck and constructed to provide temporary living quarters for recreational, camping, or travel use.
The "motor home," which is a vehicular unit which does not exceed the length, height, and width limitations provided in s. 316.515, is a self-propelled motor vehicle, and is primarily designed to provide temporary living quarters for recreational, camping, or travel use.
The "private motor coach," which is a vehicular unit which does not exceed the length, width, and height limitations provided in s. 316.515(9), is built on a self-propelled bus type chassis having no fewer than three load-bearing axles, and is primarily designed to provide temporary living quarters for recreational, camping, or travel use.
Why do RV accidents happen in Miami?
Our Miami RV lawyers work with investigators, the police, accident reconstruction experts, and others to show how and why the accident happened. Some of the causes of RV accidents include:
Lack of driver education or driver experience. Many states don't require that the operator have a special permit or license to operate a motorhome unless they are driving the motorhome for hire. Class A motorcoaches may require a commercial license, but most RVs don't. Drivers should, at a minimum, take motorhome driver education courses before operating a motorhome or an RV.
Speeding. It's difficult enough to control a passenger car while speeding or otherwise driving recklessly. Driving a motorhome above the speed limit is especially dangerous. High-speed collisions involving RVs and motorhomes can be catastrophic.
Swinging trailers. Turns and curves are dangerous for motorhome drivers in a similar way that they're dangerous for tractor-trailers. If the back trailer swings out in a different direction than the car, it can hit other vehicles, guardrails, or other objects.
Driver fatigue. Many RV drivers push the limits on how they long drive. Many drivers have targeted destinations, and may drive all day or night, often without stopping, to reach them. Tired drivers can't anticipate or react to emergencies effectively.
Rollovers. RVs have a high center of gravity. This makes them more likely to roll over at high speeds or if the driver is careless. Strong winds can cause a motorhome to flip over.
Overloaded vehicles. Excess weight can make a motorhome/RV more difficult to control and increase the possibility of a tire blowout.
Detached trailers/baggage. Trailers can detach if the towing rig breaks or shears, or if there's a failure of the coupler. Baggage or bicycles can come detached from roof racks or the back of the trailer. A "runaway trailer" can cause substantial damage.
Blind spots. Driving a motorhome or RV is different than driving a car, as they typically don't feature side windows the full length of the vehicle. Even with windows and mirrors, it can be hard to see around the motorhome/RV. Many motorhomes and RVs are now equipped with cameras for just this reason.
Driver distraction. Drivers who text while driving, use a smartphone while driving, eat, drink, or do anything that takes their eyes, hands, and mind off the task of driving are a danger to everyone on the road.
A longer stopping distance. Larger vehicles need more time and distance to stop than smaller vehicles.
Other common causes of RV accidents include difficulty turning, a trailer that becomes detached, and senior drivers. Some accidents may be due to defective motorhome parts.
WHEN I MEET THEM I PROUDLY SAY WE REPRESENT THE LEAST, THE LAST, THE LEFT OUT, AND THE LEFT BEHIND IN GETTING JUSTICE.
WE REPRESENT YOU WHO HAVE SUFFERED A LIFE CHANGING INJURY.
What types of injuries do RV accidents in Miami cause?
At Hickey Law Firm, we represent RV victims who have serious injuries – the types of injuries that are life-changing, permanent, and or chronic. Some of these include:
Head trauma, concussions, and traumatic brain injuries
Spinal cord damage and paralysis
Traumatic amputation/loss of limb
Fractures/broken bones
Soft tissue injuries, including whiplash
Nerve, ligament, and muscle damage
Internal bleeding and internal organ damage
Scarring and disfigurement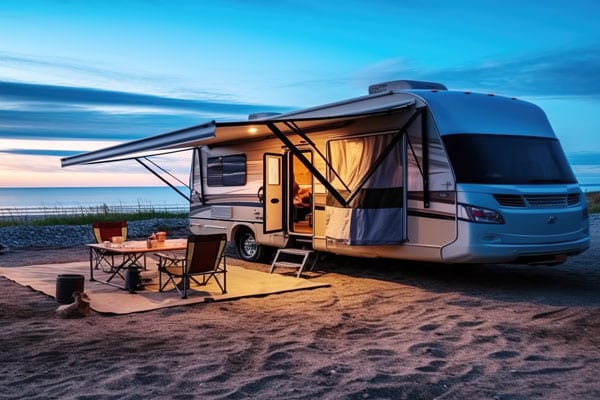 Who is liable for an RV vehicle accident?
If the RV driver caused the accident, victims may include the other occupants of the RV , the occupants of other vehicles, pedestrians, and bicycle riders. Generally, all these parties can file a claim against the drivers who caused the accident and the owners of the vehicle.
Depending on who caused the accident, other defendants may include an employer, a trucking company, the state of Florida (or an agency or governmental entity), and a seller of alcohol to a minor or a driver who is "habitually addicted to the use of any or all alcoholic beverages." If your accident was the result of a defective RV part, like a tire or electrical issue, the manufacturer may be liable for any injuries you sustain. This is true for both motorhome drivers and passengers, as well as people walking, riding, or driving near the motorcoach.
How much is my RV accident claim worth?
RVs are big vehicles. They're also meant to be lived in, which means many occupants roam around the vehicle while it's being driven. The size and weight of the average RV can cause serious injuries. If an accident occurs, passengers who aren't secured with restraints can be tossed around the vehicle.
Many victims can suffer injuries that require a lifetime of medical care and cause a lifetime of pain. Even when injuries heal, the cost of the treatments and the pain during the recovery process can be very high.
Our Miami RV accident lawyers demand compensation for all of a victim's damages, including:
All economic and non-economic damages
Medical expenses, past and future
Lost income and loss of earning capacity (for the future)
Pain, suffering, loss of the enjoyment of life, mental anguish, physical disability and impairment, scarring, and disfigurement
Loss of consortium (the effects that the injuries have on your marital relationship)
If a loved one dies in a RV accident, we file a wrongful death claim on behalf of the family of the decedent.
How much time do I have to file an RV accident claim?
The best course of action is to contact Hickey Law Firm as soon as possible after an RV accident. The sooner you contact us, the faster we can investigate the accident site, the vehicles involved in the crash, and speak to the relevant witnesses. Once you contact us, we'll move quickly to review your medical care and the injuries you have, conduct discovery, and begin negotiations with the insurance companies.
In Florida, all negligence claims must be filed within four years from the date of the accident. All wrongful death claims must be filed within two years from the date of the accident. Shorter time limits may apply in some cases.
Do you have a motorhome accident lawyer near me?
Our Miami office is located at 1401 Brickell Avenue, Suite 510. We discuss your claim at your home or a health facility if you're too ill to come to our office. We also conduct video conferences if needed.
Our lawyers understand the unique challenges involved in handling recreational vehicle accidents. We're skilled at showing how accidents happen and why you're entitled to compensation for all your injuries.
Injured in a wreck with an RV in Miami? Hickey Law Firm can help
At Hickey Law Firm, our Miami RV lawyers handle all types of vehicle accident claims including car crashes, truck, accidents, boat accidents, Uber accidents, and RV accidents. We represent Florida personal injury victims and out-of-state victims. To schedule a free consultation with our advocacy team, call us or fill out our contact form.
Related Article
Nobody Fights Harder. Nobody Fights Smarter. Nobody. ®

Hickey Law Firm – Call us today.