Hickey Law Firm, P.A. Files Suit on Behalf of Victim of Another Billionaire Boater Accident
Yet again in the waters of Florida a billionaire takes out a large, powerful boat and runs into something and injures someone seriously.  This time it was Irwin Elliot Tauber, one of Florida's top developers and owner of shopping centers. 
Today, well known maritime trial attorneys John H. (Jack) Hickey and Sarah Lobel of Hickey Law Firm in Miami and Tom Robes of the Robes Law Firm in Delray Beach filed a complaint in Miami-Dade County Circuit Court against Tauber.  Hickey and Robes represent the woman whom Tauber ran over, Theresa Murray. 
On April 28, 2020, Tauber takes out his 40' long open fisherman, a Valhalla, with 4 outboard engines and 1,800 horsepower.  He speeds in Manatee zones, cuts under bridges where he was not supposed to be, and then runs over a swimmer.  But that is not all.  After he ran over the swimmer, he refuses to go back and render aid.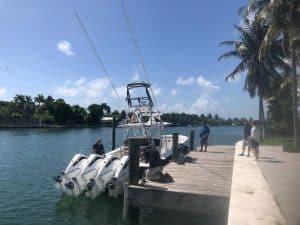 The razor sharp, 3 bladed stainless steel propellers of the 4 engines sliced into the left leg and ankle of the swimmer, Theresa Murray, of Miami Beach.  The lacerations cut through ligaments and nerves, and cut all the way to the bone of her leg.  Tauber drives the boat on then stops.  Murray yelled "you ran over me".  Tauber at the wheel does not go back and render aid or take her to shore.  He shouts "You should have had a dive flag." (No dive flag was required for a swimmer and in fact Murray was wearing a bright red swim cap and towed a bright red swim buoy which is more than what was required by Florida law).  Murray was pulled from the water and taken to shore by a paddle boarder who was also in the area.  Murray has had surgery and may have more surgery to address the ligament and nerve injuries. 
Here is an excerpt from the complaint filed this morning:
"The area of Biscayne Bay near Bay Harbor Islands have shallow, protected waters and mangroves. These waters are populated with manatees.  Because manatees swim, mate, and live in these waters, the state of Florida designated this area as a Manatee Zone.  In Manatee Zones, boats are required by Florida law to proceed at a slow speed such that boats do not make wake.  People who operate boats in these areas are required by law, namely the Inland Rules of Navigation which are incorporated into Florida Statutes and USCG regulations as more fully described herein, to operate these boats with reasonable care, skill, and awareness of surroundings to avoid colliding with or hitting people in the water.  It is common knowledge and/or can be easily determined by use of reasonable care that the Manatee Zones of Biscayne Bay are also known to regularly have swimmers, snorkelers, kayakers, paddle boarders, and people using small boats."
This scenario is strikingly similar to another spectacular boating accident which happened on December 31, 2019 in Ft. Lauderdale.  There another billionaire, Daniel Towriss, also driving another approximately 40' open fisherman boat with 4 huge outboards and 3 passengers ran the boat at high speed and crashed into the rock jetty protecting the mouth of the inlet to Port Everglades.  Hickey also represents the plaintiffs, 2 of the passengers, in that case. One of those people underwent 2 brain surgeries and a knee surgery so far.