German Protesters Block Cruise Ship – Call Out Cruise Line Pollution
FoxNews.com reports that approximately 50 protesters blocked a cruise ship from leaving port over the weekend, while protesting the industry's pollution and labor practices.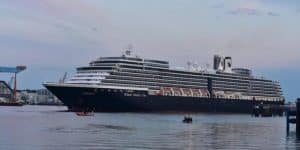 As the Holland American ship Zuiderdam was leaving port in Kiel, Germany, the protesters took to the water and physically blocked the ship's path. Displaying a banner that reads "Cruises kill climate," the protesters prevented the ship from leaving port for several hours. Police were finally able to clear the way for the ship at about 10:00 p.m.
@CNN @cnnbrk US CRUISE SHIP HELD IN PORT BY PROTESTERS OVER CLIMATE ISSUES IN Germany. Delaying passengers from final port. I'm on board. @HALcruises #zuiderdam pic.twitter.com/4Y9NIgiW8B
— Chris Grega (@g_rega14)
June 9, 2019
In a statement, Holland America said "Zuiderdam was delayed from departing the port of Kiel, Germany due to demonstration activities in the port. The ship sailed at 9:55 p.m. local time for Copenhagen, Denmark, as planned and arrived June 10 at 9:00 a.m., two hours later than originally scheduled. The ship departed Copenhagen June 10 on its regularly scheduled 14-day Northern Isles voyage."
The protesters in Germany join those protesting cruise activity in the Italian city of Venice. Those protesters also took to the streets over the weekend, raising their voices against the industry that they say is damaging the local marine ecosystem and the local culture.
Those protesting cruise pollution have recent court rulings as proof that cruise companies often do intentionally pollute. Carnival Cruise Line recently agreed to pay $20 million for its part in not only polluting the sea near the Bahamas, but then engaging in a cover-up scheme after being caught. Princess, a Carnival subsidiary, had previously been hit with a $40 million fine for its pollution activities.
Pollution watchdog Friends of the Earth says that large cruise ship can generate up to 1 million gallons of graywater per week, and up to 210,000 gallons of sewage. And a recent report in Forbes claims that in some cities, such as Marseilles, France cruise pollution is so bad that it accounts for a significant percentage of the location's overall air pollution.