Common Causes of Florida Boat Accidents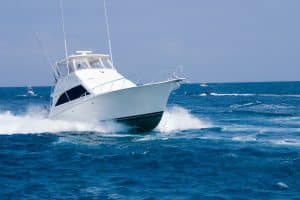 When you are seriously injured from a boating accident, you have the right to seek compensation for your injuries. There will be several medical expenses, lost time from work, and additional pain and suffering that you deserve to be compensated for. But you have to file suit in the right court (venue) and within the right time (statute of limitations). Call Hickey Law Firm today. We do all this for our clients.
Attorney John H. (Jack) Hickey is double board-certified by The Florida Bar in Civil Trial and Admiralty and Maritime Law. He is also board-certified in Civil Trial by the National Board of Trial Advocacy (NBTA). The Best Lawyers in America© recognizes Hickey in three areas: Admiralty and Maritime Law, Personal Injury Litigation – Plaintiffs, and Medical Malpractice – Plaintiffs.
At Hickey Law Firm, our lawyers have experience handling maritime injury cases in Florida. There are special laws and regulations that come with maritime laws and fighting for compensation. Our lawyers are used to fighting cruise lines and other major corporations on our clients' behalf. We are one of the few law firms that does not hesitate to represent injured cruise ship passengers across the country.
Our lawyers have over 60 years of experience seeking justice for victims who have been hurt on and off of Florida boats. Some of the common injuries that you can endure on boats include slip and fall accidents, sexual assault, and excursion-related injuries. No matter the nature of your injury, our lawyers will use our experience and leadership abilities to reach the results that you want.
Whether you are on a party boat or a fishing boat, boating accidents can easily become tragic. Just like other types of accidents, they can also be prevented. After being hurt in a Florida boating accident, contact the lawyers at Hickey Law Firm to fight for your compensation.
WAS A LAWYER FOR THE CRUISE LINES.  NOW A LAWYER FOR YOU ®
Common causes of Florida boating accidents
The root of all boating accidents is negligence. Whether that is the negligence of another person or the boating company, someone's careless actions put your life in harm's way. If you know about the common causes of boating accidents, you can learn how to act in the situation or prevent it from getting worse. Listed below are some of the common causes that lead to boating accidents.
Boating while intoxicated
Boaters who are intoxicated have a greater chance of causing serious injury or death to themselves and passengers. Just like riding a car or a truck, operating a boat under the influence affects your mental capabilities. You are more likely to miss important changes around your surroundings. Someone can enter the water and find themselves in your pathway or you can hit an unidentified object in the water.
Speeding
Just like with cars on the highways, speeding can affect your ability to react to changes around the water. What many boat owners don't know is that there is a speed limit that they must follow on the waters. When a boat owner ignores the speed limit and drives too fast, they can cause you to fall overboard or hit you if you are in the water.
Defective boats or boat parts
Boat companies can also put your life in jeopardy when they fail to keep the maintenance up on their boats. Boat companies have a responsibility to maintain each boat and its parts. If the boat is worn down from excessive use, it can affect its efficiency on the water. A boat can also be unsafe if it is lacking the required safety equipment. All boats need life jackets for each passenger; if those lifejackets are missing or not properly fitted, the boat company can be held liable for your accident.
Hitting other boats or objects
One of the most fatal common causes is hitting another boat or object. When your boat has struck another boat or object, it is very rare that you can recover from that type of impact. The impact from the collision can cause you to fall overboard if you are on another boat. If you are swimming and are hit by another boat, you can suffer a serious head injury or die instantly.
Falling overboard
Another fatal common cause is falling overboard. Falling overboard is one of the most underrated boating accidents. Many people do not know how dangerous it is when you fall overboard a boat. Your chances of surviving decrease the second that you fall overboard from a boat. You have to deal with whatever dangers are around the boat, from wildlife to sharp rocks.
What is Florida's statute of limitations for injury claims?
Every claim and every lawsuit has a deadline to file it. That deadline is called the statute of limitations. These deadlines vary according to the type of claim and what law applies. This is NOT meant to be legal advice to anyone about any particular case. For that, call one of our lawyers.
Generally speaking, the deadline for filing a claim in a boating accident where maritime law applies is 3 years from the date of injury. That is where there is no contract or ticket involved. A contract, employment agreement, or ticket can shorten the deadline.
Let Hickey Law Firm handle the insurance companies after a Florida boat accident
Owners of boats in Florida are not required to purchase liability insurance. But many boat owners do purchase insurance. At Hickey Law Firm, we have some standard methods and procedures to determine if there is insurance. Let us get to work for you.  When you have been injured on the water in Florida or in international waters, the team at Hickey Law Firm can help. Our lawyers have the experience that you need, the representation you want, and can get you the compensation that you deserve. Call our office today at 305.760.4492, or complete our contact form to schedule your free consultation. Our office is in Miami and we serve the entire state.